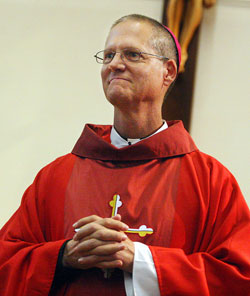 When Bishop-Elect Paul D. Etienne was asked what it was like to recieve the phone call informing him that Pope Benedict XVI had named him bishop of Cheyenne he said:
Well, it was bizarre. I don't know what else to say. Archbishop Sambi called the office at the parish and it was my day off. We had to play phone tag. I was up at the [family] farm with a chain saw, working in the woods. And, when he called, I was just getting out of my pickup truck. I was in my Carhart jeans and in my work boots, and had nothing to take notes with. I was just sitting there in my truck listening to him tell me that I've just been named [a] bishop. And he had to say 'Cheyenne' four times before I could understand what he was saying. I still just can hardly believe it. It's a very unusual experience. What can I say?
Read the whole interview and get the rest of the story, like how hard it was to keep it a secret, by
clicking here.